It is now possible with CanDia5®, a rapid test for Candida. CanDia5® can be used as an aid for diagnosis of Candida infection occurring anywhere in the body, but the most common sites affected are the vagina and gastrointestinal tract.
CanDia5® offers:

Rapidity - the result is available in about 5 minutes
Reliability - CanDia5® has been rigorously tested for accuracy and reproducibility
Convenience - the test procedure requires only 5 easy steps
Affordability - the test costs only £22.50
CanDia5® is an immunochromatographic test kit that accurately detects circulating antibodies specific to a current or recent Candida infection. With only one drop of fingertip blood, this test detects antibodies to the four most common species of Candida.
Symptoms of candidiasis: indigestion, bloating, flatulence, abdominal cramps, fatigue (worse after a meal), diarrhoea or constipation, an itch in the rectal area, catarrh, memory loss, mood swings, anxiety, ADHD, depression, rhinitis, asthma, urticaria, premenstrual tension, recurring fungal infections such as athlete's foot, thrush, recurring cystitis, sensitivity to cigarette smoke and other chemicals e.g. perfumes (formaldehyde sensitivity), and alcohol or sugar intolerance. Ref: McClenaghan, Jane. Candida and Thrush - a simple guide. BioMED Publications Ltd, 2003. It needs to be noted, however, that many of these symptoms can be attributed to causes other than candidiasis.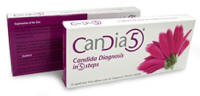 Approximately 75% of the population carries Candida asymptomatically (without any signs of symptoms), therefore a large part of the population are carriers.
When there is an active infection anywhere in the body, the Candida organism is broken open by the immune cells called neutrophils and macrophages, thereby releasing the internal 'cytoplasmic' antigens. By using these antigens in our Candida test we measure only antibodies produced in response to infection, not only from exposure.
The test gives a clear positive or negative, that is, it tells you whether or not there is a current (active) infection.
The patient remains antibody positive for approximately 3 months.
The test can be requested as part of a normal consultation or a 15 minute consultation can be requested only to have this test done.